Your price plan includes voicemail where callers can leave a voice message when you don't answer a call. Follow these instructions to divert calls to your voicemail.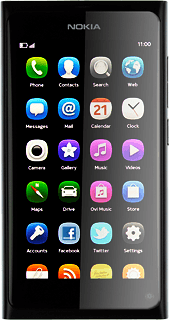 The current settings will be displayed.
Press
the indicator
next to
the required divert type
.
If you choose
All voice calls
, the remaining settings will be ignored.
If out of reach
includes
If busy
and
If not answered
in one setting.
3.

Divert calls to voicemail
Key in
+61414121121
and press
Save
.
A request to change the setting is sent to the network.
If you choose to divert calls,
the divert icon
is displayed in standby mode.
Slide your finger across the display to return to standby mode.