Follow these instructions to use GPS navigation in Nokia Maps.
You need to turn on GPS to use this function. Click here for information on how to turn on GPS.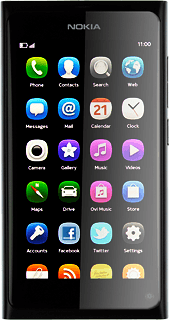 Find "Drive"
Plan route
Key in the required destination and press
Enter
.
Press
the required destination
.
The selected destination is displayed.
Press
DRIVE TO
to get directions.
Use GPS navigation
Press
START NAVIGATION
to start navigation.
The next turn
and
the next step of the route
are displayed at the top of the display.
The distance
and
the current speed
are displayed at the bottom of the display.
Follow the instructions on the display to go to the selected destination.
Exit navigation
Exit
Slide your finger across the display to return to standby mode.